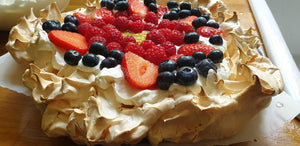 Ambra's Kitchen
Bridget's Birthday party
Regular price
£1,200.00
£0.00
Unit price
per
Tax included.
Thank you for celebrating with us Bridget's birthday party!
We will come at your address on Sunday May 7th at about noon and will be serving your warm lunch at 2pm. The food will be for 40 people.
2 trays of Aubergine Parmigiana

 

(classic Sicilian dish, with layers of roasted aubergines, tomato sauce, mozzarella and Parmesan cheese, breadcrumbs and basil)
Allergens: Wheat, Milk
3 trays of Pasta with a 7 hours roasted lamb with garlic and white wine, thin roasted slices of courgettes , basil and roasted pine nuts
Allergens: Wheat, Milk, Pine nuts
2 bowls/platters of lettuce, fried halloumi cheese, pomegranate, pistachios and frsh yellow dates 
Allergens: Milk, Pistachios
3 Pavlovas (1 with strawberries, 1 with mixed berries and 1 with tropical fruit)
Allergens: Eggs, Milk
2 Basque Burnt Cheesecakes
We look forward to cooking for such a special occasion!
Ambra