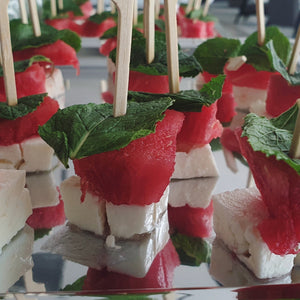 Ambra's Kitchen
Catering for Anna Milbourne
Regular price
£750.00
£0.00
Unit price
per
Tax included.
Dear Anna,
Thank your for choosing to celebrate with Ambra's Kitchen. We can't wait to cook for you!!
It will be a pleasure for us to look after your family and your guests.
We will be preparing the following:
4 canapés per person for 75 people, for a total of at least 300 canapés. We will be preparing freshly on the spot:
- focaccia with rib-eye steak and sweet onion chutney on a skewer
- burrata with pomegranate or lime infused courgettes and toasted pine nuts
- deconstructed bruschetta served on a canapés spoon
- feta watermelon and mint served on a skewer
It will be 2 of us at your event, myself and the lovely Mariuska. We will arrive there between 5 and 5:30 on Saturday 3rd September and plan to serve your guests starting from 8 and finishing at about 9pm. We will be preparing the food freshly on the spot and serve your guests.
We will bring our equipment to cook the meat and chop the ingredients. We will only require access to your kitchen stove to cook the meat after 7:30, kitchen surfaces for us to work on and most importantly as much space in the fridge as you can manage, so we can keep the burrata canapés, the bruschetta canapés and the watermelon and feat fresh. we will be coming with boxes with ice packs so you could transfer some of your food into our boxes if helpful for those few hours.  
Many thanks for choosing to eat with us!
Ambra
Allergens: Cereals (including Wheat), Diary, Pine Nuts 
All Food Allergens Are Listed Above. However, The Environment In Which The Dishes Are Made Handles The 14 Food Allergens Mentioned Under Natasha's Law, Which Must Be Declared In Accordance With The Food Information Regulations. Please Note These Allergens Are As Follows:
 Celery, Cereals Containing Gluten (Such As Barley, Oats & Wheat), Crustaceans (Such As Prawns, Crabs & Lobsters), Eggs, Fish, Lupin, Milk, Molluscs (Such As Mussels & Oysters), Mustard, Peanuts, Sesame, Soybeans, Sulphur Dioxide & Sulphites (At A Concentration Of More Than Ten Parts Per Million) & Tree Nuts (Such As Almonds, Hazelnuts, Walnuts, Brazil Nuts, Cashews, Pecans, Pistachios & Macadamia Nuts).