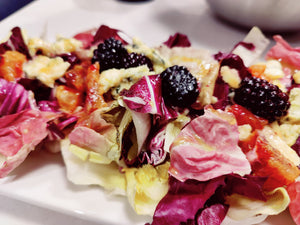 Ambra's Kitchen
Catering for Gemma
Regular price
£296.00
£0.00
Unit price
per
Tax included.
Dear Gemma, thank you for choosing our food to celebrate your son's first birthday with your family and friends. 
We will be preparing the following, for 13+ people:
Main Courses:
Drunk Ragu' Lasagne (contains pork, lamb and beef meat)  - 1 large oven tray
Allergens: Dairy, Wheat, Celery, Sulphites (in the Cabernet Sauvignon wine)
Beef Moussaka - 1 large tray 
Allergens: Dairy
Salads:
Winter Leaves with Oranges, Roasted Walnuts, Coston Basset Stilton and Blackberries, with a Honey and Mustard Vinaigrette 
Allergens: Walnuts, Dairy, Mustard
Roasted Cauliflower wit Pistachios, Pomegranate, Mint, Tarragon and Parsley
Allergens: Pistachios
I will deliver the dishes between 12:30 and 1pm if convenient at your home. The main courses will be precooked and would just need a bit of reheating 15-20 minutes.
All Food Allergens Are Listed Above. However, The Environment In Which The Dishes Are Made Handles The 14 Food Allergens Mentioned Under Natasha's Law, Which Must Be Declared In Accordance With The Food Information Regulations. Please Note These Allergens Are As Follows:
Celery, Cereals Containing Gluten (Such As Barley, Oats & Wheat), Crustaceans (Such As Prawns, Crabs & Lobsters), Eggs, Fish, Lupin, Milk, Molluscs (Such As Mussels & Oysters), Mustard, Peanuts, Sesame, Soybeans, Sulphur Dioxide & Sulphites (At A Concentration Of More Than Ten Parts Per Million) & Tree Nuts (Such As Almonds, Hazelnuts, Walnuts, Brazil Nuts, Cashews, Pecans, Pistachios & Macadamia Nuts).