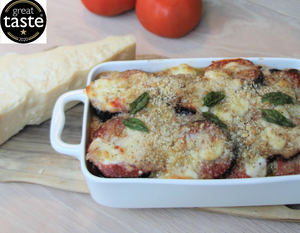 Ambra's Kitchen
Catering for Jane B
Regular price
£836.00
£0.00
Unit price
per
Tax included.
Hey Jane,
I look forward to bringing my food to your husband's work-get-together.
I will be there between 12 and 1pm, since your guests arrive at 2pm. The Aubergine Parmigiana dishes will be the only one that requires reheating. Everything else will be ready to be enjoyed.
The below food will feed 19 people  (at £44 pp):
Canapes:
- Feta, watermelon and mint on a skewer

- Italian shortcrust (made with almond flour and Parmesan cheese) with handmade mayo, steamed peas and mint
 Roasted cauliflower with pomegranate mint, cumin, parsley
- Green beans, mangetout, with roasted hazelnuts and oranges 
- Aubergine Parmigiana 
- Pasta alla Siciliana 
Double Tier Pavlova with Strawberries 
Basque Burnt Cheesecake
Allergens: Wheat, Diary, Eggs, Almonds, Hazelnuts, Pistachios, Pine Nuts, Fish (Anchiovies in the Siciclian pasta)
All Food Allergens Are Listed Above. However, The Environment In Which The Dishes Are Made Handles The 14 Food Allergens Mentioned Under Natasha's Law, Which Must Be Declared In Accordance With The Food Information Regulations. Please Note These Allergens Are As Follows:
 Celery, Cereals Containing Gluten (Such As Barley, Oats & Wheat), Crustaceans (Such As Prawns, Crabs & Lobsters), Eggs, Fish, Lupin, Milk, Molluscs (Such As Mussels & Oysters), Mustard, Peanuts, Sesame, Soybeans, Sulphur Dioxide & Sulphites (At A Concentration Of More Than Ten Parts Per Million) & Tree Nuts (Such As Almonds, Hazelnuts, Walnuts, Brazil Nuts, Cashews, Pecans, Pistachios & Macadamia Nuts).