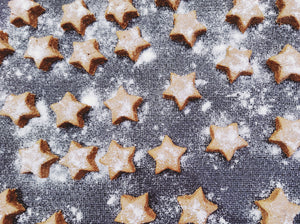 Ambra's Kitchen
Catering for L-Acoustics
Regular price
£1,012.50
£0.00
Unit price
per
Tax included.
Dear Camille,
Thank your for choosing to dine with Ambra's Kitchen for L-Acoustics Christmas Party! We can't wait to prepare the food for all of you! 
We will be preparing the following, for 27 people:
Aperitives with:
Turmeric roasted cashew
Feta, watermelon (or tropical fruits) and mint canapes on Prawn Crackers
Focaccia with sweet onion chutney
Appetizers
Carrots glazed in butter with whipped goat cheese, roasted walnuts and pan fried blackberries
Roasted cauliflower with pomegranate, tarragon, mint and roasted pistachios
Mains
Roasted Sweet Potatoes, with Spring Onions, Fresh Chilies, A Balsamic Reduction and Crumbled  Goat Cheese (can be made without the goat cheese to accommodate a vegan diet)
Either: Rigatoni with 7 hours slow Cooked Lamb with Fried Aubergines or Chickpeas with Tomatoes and Red Onions Marinated In Orange Juice, with Feta, Mint and Parsley 
Desserts

Lemon Cannoli
5 Spices Chocolate and Almond Stars
Honeycomb Coated in Blond Chocolate
We will meet you at the venue at about 3pm on Monday 12th.  
For serving we would suggest:
20 large platters for serving
3 large bowls for pasta
30 side plates for salads
30 large plates for main
60 forks and 60 knives
20 serving spoons and 20 serving forks
Many thanks for choosing to eat with us!

Ambra
Allergens: Diary, Wheat, Walnuts, Eggs, Pistachios, Cashews, Prawns, Almonds
All Food Allergens Are Listed Above. However, The Environment In Which The Dishes Are Made Handles The 14 Food Allergens Mentioned Under Natasha's Law, Which Must Be Declared In Accordance With The Food Information Regulations. Please Note These Allergens Are As Follows:
Celery, Cereals Containing Gluten (Such As Barley, Oats & Wheat), Crustaceans (Such As Prawns, Crabs & Lobsters), Eggs, Fish, Lupin, Milk, Molluscs (Such As Mussels & Oysters), Mustard, Peanuts, Sesame, Soybeans, Sulphur Dioxide & Sulphites (At A Concentration Of More Than Ten Parts Per Million) & Tree Nuts (Such As Almonds, Hazelnuts, Walnuts, Brazil Nuts, Cashews, Pecans, Pistachios & Macadamia Nuts).