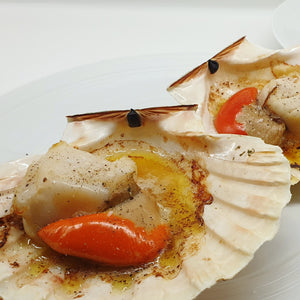 Ambra's Kitchen
Catering for Niko's Farewell
Regular price
£713.00
£0.00
Unit price
per
Tax included.
Dear Andrew,
Thank your for choosing to celebrate Niko's Farewell party with Ambra's Kitchen. We can't wait to cook for you!!
It will be a pleasure for us to look after your team and your guests.

The total cost includes: 
- menu as per below for £38 a person for 16 people
- Mariuska serving the wine and food to the guest throughout the evening (5 hours at £15 per hour)
- £15  of parking fees and £15 of congestion charge
We will be preparing the following:
-
 S
callops
gently
seared
in their shell in the oven with orange juice, garlic and parsley
- Roasted cauliflower sharing platter with pistachios and pomegranate (vegan)
- Canapes of handmade focaccia with grilled ribeye steak and sweet onions chutney

- Sourdough bruschetta with burrata, basil infused oil, crumbles roasted pine nuts and fresh radicchio 
- Canapes of pan fried rib-eye marinated in rose harissa with stewed peppers and preserved lemons 
- Chickpeas salad with feta, oranges, mint, red onions and tomatoes marinated in orange juice

- Roasted Aubergines with fresh ricotta, fresh and dry dates, maple syrup and Maldon salt flakes
- Platter with winter leaves, blood oranges, walnuts, Coston Basset Stilton and Blackberries with a honey and mustard vinaigrette
- Roasted beetroot with whipped goat cheese, walnuts and blackberries with olive oil and balsamic
- Eton mess served on a spoon (made with pavlova meringues and strawberries, or maybe for the more adventurous another gorgeous version of meringues made with crystallized ginger and dates
- Tiramisu' bites served on spoon
- Lemon cannoli
Many thanks for choosing to eat with us.
Ambra
Allergens: Cereals (including Wheat), Diary, Celery, Eggs, Nuts, Seafood, Sulphites (in the Marsala wine, there are a few drops of it in the Tiramisu'), Mustard 
All Food Allergens Are Listed Above. However, The Environment In Which The Dishes Are Made Handles The 14 Food Allergens Mentioned Under Natasha's Law, Which Must Be Declared In Accordance With The Food Information Regulations. Please Note These Allergens Are As Follows:
 Celery, Cereals Containing Gluten (Such As Barley, Oats & Wheat), Crustaceans (Such As Prawns, Crabs & Lobsters), Eggs, Fish, Lupin, Milk, Molluscs (Such As Mussels & Oysters), Mustard, Peanuts, Sesame, Soybeans, Sulphur Dioxide & Sulphites (At A Concentration Of More Than Ten Parts Per Million) & Tree Nuts (Such As Almonds, Hazelnuts, Walnuts, Brazil Nuts, Cashews, Pecans, Pistachios & Macadamia Nuts).