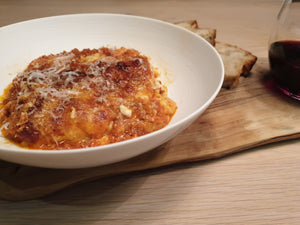 Ambra's Kitchen
Catering for Sheila Hayden
Regular price
£184.00
£0.00
Unit price
per
Tax included.
Dear Sheila,
Thank your for choosing to dine with Ambra's Kitchen.
We will be delivering the following, for 8 people:
Drunk Ragu' Lasagne ( 2 trays for 4 people each) 
 Allergens: Wheat, Diary, Eggs, Celery, Sulphites (in the Cabernet Sauvignon)
Raspberry Semifreddo
Allergens: Eggs, Dairy
We will arrange a convenient time afterwards so we can collect our trays from you.
Many thanks for choosing to eat with us!

Ambra
All Food Allergens Are Listed Above. However, The Environment In Which The Dishes Are Made Handles The 14 Food Allergens Mentioned Under Natasha's Law, Which Must Be Declared In Accordance With The Food Information Regulations. Please Note These Allergens Are As Follows:
Celery, Cereals Containing Gluten (Such As Barley, Oats & Wheat), Crustaceans (Such As Prawns, Crabs & Lobsters), Eggs, Fish, Lupin, Milk, Molluscs (Such As Mussels & Oysters), Mustard, Peanuts, Sesame, Soybeans, Sulphur Dioxide & Sulphites (At A Concentration Of More Than Ten Parts Per Million) & Tree Nuts (Such As Almonds, Hazelnuts, Walnuts, Brazil Nuts, Cashews, Pecans, Pistachios & Macadamia Nuts).