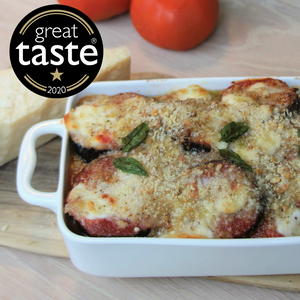 Ambra's Kitchen
Catering for Suman - Xmas
Regular price
£150.00
£0.00
Unit price
per
Tax included.
Dear Suman,
Thank your for choosing to celebrate with Ambra's Kitchen. We can't wait to cook for your family and friends! 
We will be preparing the following:
5 Bruschetta with Burrata, Radicchio and Roasted Walnuts with a Basil Infused Olive oil and 5 Filo Pastry Triangles with Roasted Pumpkin, Smoked Mozzarella and Speck Ham
3.5 Kg Leg of Lamb, Slow Roasted for 7 hours  with Garlic, Sauvignon Blanc and Herbs, served with Roast New Potatoes and Green Beans as Side Dishes 
Aubergine Parmigiana (Layers of Slow Roasted Aubergines, Mozzarella, Parmesan Cheese and Tomato Sauce) - 4 portions
A Sharing Platter of Winter Leaves (Red and White Chicory and Radicchio di Treviso) with Blood Oranges,  Walnuts, Coston Basset Stilton and Blackberries, with a Honey and Mustard Vinaigrette 
A Sharing Platter of White Beans, Tomatoes, Sugar Peas, Radicchio, Red Onions, Lemons, Parsley, Boiled Eggs
The total cost is £30pp, with £150 already prepaid. 
All food will be delivered fully cooked and prepared on Saturday 26th November, delivered at about 3pm at your place. We will arrange a convenient time afterwards so we can collect our dishes and pots from you.

Many thanks for choosing to eat with us!
Ambra
Allergens: Diary, Wheat, Walnuts, Eggs, Sulphites (in the Sauvignon Blanc), Mustard, Peanut, Sesame, Celery
All Food Allergens Are Listed Above. However, The Environment In Which The Dishes Are Made Handles The 14 Food Allergens Mentioned Under Natasha's Law, Which Must Be Declared In Accordance With The Food Information Regulations. Please Note These Allergens Are As Follows:
Celery, Cereals Containing Gluten (Such As Barley, Oats & Wheat), Crustaceans (Such As Prawns, Crabs & Lobsters), Eggs, Fish, Lupin, Milk, Molluscs (Such As Mussels & Oysters), Mustard, Peanuts, Sesame, Soybeans, Sulphur Dioxide & Sulphites (At A Concentration Of More Than Ten Parts Per Million) & Tree Nuts (Such As Almonds, Hazelnuts, Walnuts, Brazil Nuts, Cashews, Pecans, Pistachios & Macadamia Nuts).