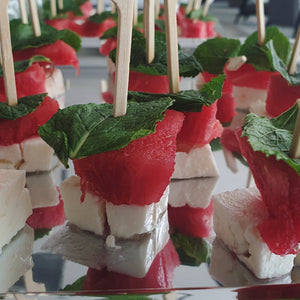 Ambra's Kitchen
Catering for Suzanne
Regular price
£397.00
£0.00
Unit price
per
Tax included.
Suzanne,

Thank you for choosing our food to celebrate your friends' birthday!
I wll be personally preparing the following 6 canapes', for 19 guests at your property:
- Filo pastry stuffed with feta, honey, parsley and paprika (warm)
- Buffalo mozzarella with flat peach and mint on a skewer
- Focaccia bread with rib-eye steak
- Italian charcuterie, spicy pitted green olive and a bread stick on a bamboo cone
- fried chorizo sausage with roasted pepper and basil on a skewer
- feta, watermelon and mint on a skewer
Allergens:  Milk, Wheat, Eggs.
I will arrive at your property at about 3:30 pm and will serve the canapes' between 5 pm and 7 pm. I will be happy to clear your glasses and plates and assist you with your guests.