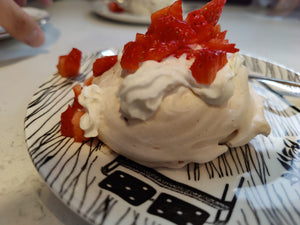 Ambra's Kitchen
Catering for Tareq's birthday party
Regular price
£577.00
£0.00
Unit price
per
Tax included.
10x Turmeric Cashews (cooked with cumin sugar, olive oil, turmeric and roasted in the oven) served in a bamboo cone £3.5 (V)
10x Trout Tartare with pistachios, tarragon and lemon on corn Tortilla £4.5 
10x Black charcoal cracker with fresh ricotta, roasted cherry tomatoes and paprika £3 (Veg) (slightly warm)
10x Roasted Feta coated in egg and sesame seeds, with honey, lemon and thyme dressing £3 (Veg) (can be warm or room temperature)
10 x Freshly made guacamole on tortillas £4 (V) (two each)

10 x Tartlet with Sicilian Caponata £4.5 (similar to French Ratatouille,  but  sweet and sour, typical sicilian dish) £4 (warm)
10 x Burrata (think of buffalo mozzarella, but much creamier) served on a canape spoon with with pomegranate or with lime infused courgette and roasted pine nuts £3.8 (Veg)
10 x Stemmed Asparagus with fresh handmade mayo on a canapes  spoon and topped with a pure Parmesan cheese leaf (Veg) (warm) £4 (or just a Parmesan leaf for £2.5, great with a glass of champagne)
10 x Barchetta (a Parmesan and shortbread tartlet) filled with fresh handmade mayo, steamed fresh peas and mint, with maldon salt and pepper (Veg) £4
10 x Super soft focaccia bites with pesto or sweet onion chutney (whipped feta optional extra £0.5) £3 (V)
10 x Butter Beans with tomatoes, kalamata olives, red onion, lemons, parsley and maldon salt  served  on a canapes spoon £3.5 (V)
10 x Grilled aubergine slice on toasted sourdough, topped with fresh ricotta and diced fresh dates and maples syrup (Veg) £4 

10 x  Roasted cauliflower with cumin, mint, tarragon, roasted pistachios and topped with pomegranate served on a lettuce leaf (V) £3.5
10 x Mashed Roasted Aubergines, with soya sauce,  sesame oil with crunchy peanut butter and fresh chillies, served on a canapes spoon (V) £3.8
14 x Mini pavlovas with strawberries and cream £4 

Allergens: Eggs, Milk, Pistachios, Soya, Sesame, Peanut, Wheat, Fish, Pine nuts, Cashews
We have not been notified of any guests with allergies, please, if there are any, let us know in writing by email ahead of the event.
We cannot cater for severe allergies as we handle all allergens in our kitchen.