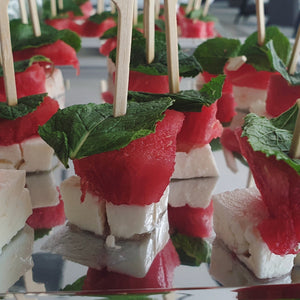 Ambra's Kitchen
Final Payment - Babel 2023
Regular price
£1,123.00
£0.00
Unit price
per
Tax included.
Dear Babel PR Team,
Thank your for choosing to celebrate with Ambra's Kitchen. We can't wait to cook for you!!
It will be a pleasure for us to look after your team and your guests.
We will be preparing the following:
The focaccia, rib-eye steak and sweet onion chutney canape
Canapes on a spoon with peas, ham, cornichon, carrots, homemade mayo and a leaf of parmesan cheese
Palmiers  (made of puff pastry)  with a mushroom cream and a green olives tapenade
Butter beans soaked with Italian chopped tomatoes, finely chopped peppers, Kalamata olives, marinated red onions, parsley and lemon.
Roasted aubergines with fresh figs, parsley, maple syrup and ricotta cheese
The Sicilian pasta (contains anchovies but like last year we mix the ingredients freshly on the spot, so we can make some vegan portions too)
Tiramisu (for 15 people)
Handmade italian dry patisserie (for 15 people)
The cost of your menu is £56 per person (as quoted) for 60 guests (£3,360) and includes food, serving compostable  packaging and cutlery, and staff of 4 people working at your premise. We will be arring between 3PM and 4PM on 13th July 2023 and we'll have the food ready for 6pm. We will be working until and 9PM (2 people will  be dedicated to the top floor). 
We have subtracted £4.5 from the bill for 30 (£135) people as we agreed to make 15 portions of Tiramisu' and provide dry pastry for 15 people. (i.e. there will be desserts for 30 of the expected 60 guests)
We have included an extra person who will come on  the day and will do the cleaning  throughout the event and charge £15 ph (she will be briging dirty glasses and clearing the garbage in garbage bags). She will be there from 5:30 till 9-9:30 (total expected cost £60)
The total expected cost for the evening is £3,285 plus parking and congestion charge.   
2/3 of the total cost is due upfront, the reminder is due after the event. In the final bill, we will be including the congestion charge, any parking cost and any staff costs if we are required to stay for longer (£90 per hour, for all 4 people). We will leave the kitchen in the same clean condition as we find it. We will bring some printout copies of the menu with full allergens, please ask your guests to check the menu if they have any allergies.
Many thanks for choosing to eat with us.
Ambra
Allergens: Cereals (including Wheat), Celery, Eggs, Nuts, Fish, Sulphites (in the Marsala wine, there are a few drops of it in the Tiramisu'), Milk, Nuts 
All Food Allergens Are Listed Above. However, The Environment In Which The Dishes Are Made Handles The 14 Food Allergens Mentioned Under Natasha's Law, Which Must Be Declared In Accordance With The Food Information Regulations. Please Note These Allergens Are As Follows:
 Celery, Cereals Containing Gluten (Such As Barley, Oats & Wheat), Crustaceans (Such As Prawns, Crabs & Lobsters), Eggs, Fish, Lupin, Milk, Molluscs (Such As Mussels & Oysters), Mustard, Peanuts, Sesame, Soybeans, Sulphur Dioxide & Sulphites (At A Concentration Of More Than Ten Parts Per Million) & Tree Nuts (Such As Almonds, Hazelnuts, Walnuts, Brazil Nuts, Cashews, Pecans, Pistachios & Macadamia Nuts).