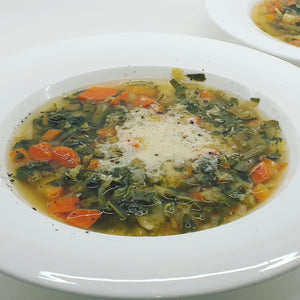 Ambra's Kitchen
Minestrone with Smoked Bacon and Lentils (Thu 9 Nov)
Regular price
£9.50
£0.00
Unit price
per
Tax included.
A classic Italian Soup enriched with smoked bacon and lentils, served with a slice of sourdough bread.
INGREDIENTS
This soup will contain at least 6 seasonal vegetables, which may be: Carrots, Chard, Onions, Cavolo Nero, Tomatoes, Courgettes, Green Beans, New Potatoes, Peas, Leek, Cabbage, Courgettes, Cherry Tomatoes, Celery,. It will also contain: Smoked Bacon (contains salt and Sodium Nitrate), Bread crumbs (Wheat), Lemon, Red Split Lentils, Olive Oil, Salt and Parmesan Cheese (Unpasteurised Cow's Milk, Rennet, Salt), Pepper 
We've highlighted potential allergens in bold. 
Our products are hand made in a kitchen that handles Nuts, Wheat, Soya, Dairy and Eggs.
 Please keep in the fridge below 5C. Once open, enjoy the same day.
 Expiry: Eat within five days of delivery
 How to heat: If the seal has been broken, please return the product. Place the closed jar, with clips (yes, it's safe), in the microwave for 3 minutes and 30 seconds at 800 W. Be careful: I am made of glass and will get hot. (in absence of microwave please open the jar and cook in the oven for 15 minutes at 180 C)
 How to open:  Once heated, remove the clips and gently pull the tab of rubber seal outwards until you hear the air rushing in. Then lift off the glass cover.
 Suitable for freezing. Freeze on the day of purchase and consume within a month. Defrost thoroughly before heating up or the jar will break.