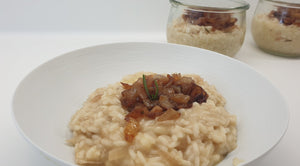 Ambra's Kitchen
Risotto with Comte and Caramelized Onions with Balsamic Vinegar (Thu 12 May)
Regular price
£8.60
£0.00
Unit price
per
Tax included.
Risotto with Caramelised Onions with Balsamic Vinegar and Comté Cheese
🅥 (except for Parmesan Cheese - contains rennet)
INGREDIENTS
Carnaroli Rice, Onions, Balsamic Vinegar (Cooked Grape Must*, Wine Vinegar* (Sulphites), Butter* (Milk), Olive Oil, Comte Cheese (Unpasteurised Cow's Milk), Parmigiano Cheese  (Unpasteurised Cow's Milk, Rennet, Salt), Celery*, Carrots*, Potato Starch*, Sustainable Palm Oil*, Tomato, Sunflower Oil*, Yeast Extract, Sugar, Salt, Turmeric*, Parsley*, Lovage*.
*Organic ingredients
V (except for Parmesan Cheese, which contains rennet)
Net weight: 350 grammes
For allergens see ingredients in bold.
Our products are hand made in a kitchen that handles Nuts, Wheat, Soya, Dairy and Eggs
Please keep me in the fridge below 5C, once open enjoy the same day
Expiry: Eat within 5 days from purchase date
How to heat me: If the seal has been broken, please return the product. Place the closed jar, with clips (yes, it's safe), in the microwave for 3 minutes and 30 seconds at 800 W. Be careful: I am made of glass and will get hot! (in absence of microwave please open the jar, remove the rubber seal, close it again with the glass lid and clips, cook in the oven for 15 minutes at 180 C)
How to open me: Once heated, remove the clips and gently pull the tab of rubber seal outwards until you hear the air rushing in. Then lift off the glass cover.